The new iOS 16 has brought a lot of useful changes and one of them that I personally liked the most is the Face ID in Landscape Mode. Yes, you can now unlock your iPhone via face ID while using it in landscape mode. This is a really handy feature in situations like when you have your phone placed on the table in landscape orientation and you want to unlock it.
But there has been an issue with the functioning of this feature and many of us are experiencing the Landscape Mode Face ID not working. Having said that, here I have shared a couple of tips and workarounds to rectify this issue.
How to fix if Face ID is not working in landscape mode on iPhone in iOS 16 or Later
The possible cause behind the non-functioning of the Face ID in landscape mode can be hardware or software related. Let's first discuss the possible causes that might be causing the problem.
Why Face ID is not working in Landscape Mode on my iPhone?
A software bug can be a possible reason but before jumping to that conclusion, I would advise you to check other things first. It is possible that a faulty or improper alignment of the screen protector is the culprit.
Penetration or accumulation of the dust on the front of the true depth sensor that is used in Face ID can also easily lead to the non-functioning of the Face ID in either or both phone orientations.
With such things as primary inspections, act accordingly and perform basic troubleshooting to resolve the issue. Below are some more fixes and troubleshooting that you should try.
Fix 1: Check the compatibility of your iPhone
Not all iPhones with Face ID capability are served with the same functionality of landscape face ID unlocking. Hence, it is a good idea to make it sure that your iPhone is on the list of supported devices and also running on iOS 16 or later. Here's the list of supported devices:
iPhone 13
iPhone 13 mini 
iPhone 13 Pro
iPhone 13 Pro Max
iPhone 14
iPhone 14 Plus 
iPhone 14 Pro 
iPhone 14 Pro Max
Fix 2: Make sure the Face ID module is clean
Dirt or debris on the camera model of your iPhone can easily create issues with the Face ID. Hence it is highly advised to clean the front camera area of your iPhone with a soft microfiber cloth and check if the Face ID is now working or not.
Fix 3: Observe the screen protector's alignment
Misaligned application of the screen protector can also oppose the view of the Face ID module, leading to issues with its normal functioning. Not just the cheap ones, but even the premium ones if used for a long time, can cause problems with the Face ID, touch response, etc.
It is a good idea to have your screen guard replaced with a new one. Especially, if your screen guard comes with either black borders or has dedicated cutouts for the camera module.
Fix 4: Hard Reset Your iPhone
A hard reset to the iPhone can serve as a solution to a lot of problems that often come into the experience. Applying the same to this situation, here's how you can hard reset your iPhone.
Step 1: Press ad releases the volume up button of your iPhone quickly.
Step 2: Then, similarly, press and quickly release the volume down button.
Step 3: Lastly, hold down the iPhone's side button until you see the Apple logo on your screen.
Fix 5: Reset Face ID
If the issue is occurring due to some software glitch, resetting the Face ID can prove to be an effective solution to it.
Step 1: Open the Settings app on your iPhone.
Step 2: Head over to the Face ID & Passcode option.
Step 3: Here, tap on the Reset Face ID option in the red font.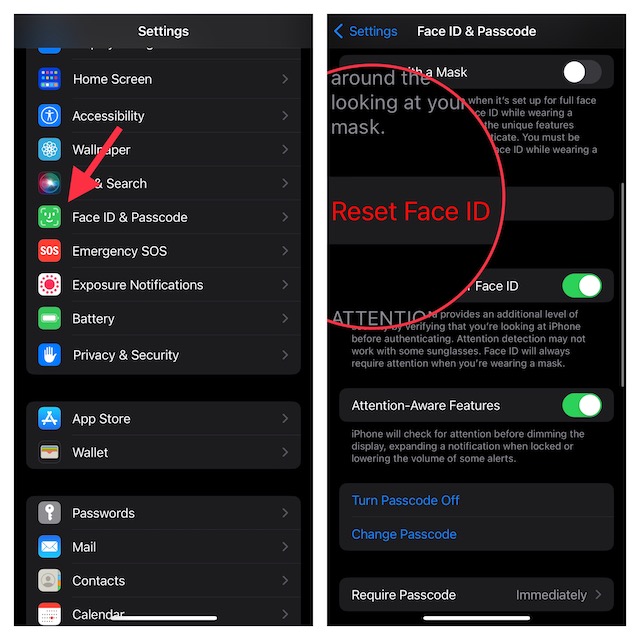 Step 4: Once you are done resetting the Face ID, set it up again with your face and try to unlock the phone with the same in the landscape orientation to see if the issue is resolved.
Fix 6: Reset all settings
If the above primary fix doesn't work, proceed further and try factory resetting your iPhone.
Step 1: Open the Settings app on your iPhone.
Step 2: Go to the General option on your Settings app.
Step 3: Scroll down and select the Transfer or Reset iPhone option.
Step 4: Now, tap on Reset > Reset All Settings.
Fix 7: Check for software update
It is a really important and good practice to keep your phone updated with the latest available software. This thing becomes even more important if you are facing some technical issues like the one we are discussing here. There are chances that the current software is prone to a bug that is causing the unusual working for your Face ID.
Step 1: Open the Settings app on your iPhone.
Step 2: Next go to General > Software Update.
Step 3: If there is an update available, go ahead and download, and install it by following the on-screen instructions.
Bottom Line
With that said, here we are at the end of this fixing guide. I am hoping that this guide would have helped you in using the Face ID in landscape orientation on your iPhone. If it does, please share that specific fix that helped in your case. Lastly, if you have any questions, suggestions, or anything to share with us, feel free to use the comments section below.
Also Read: